Girls gymnastics finishes fifth at state tournament
Gutsy performances propel team to second straight top 5 state finish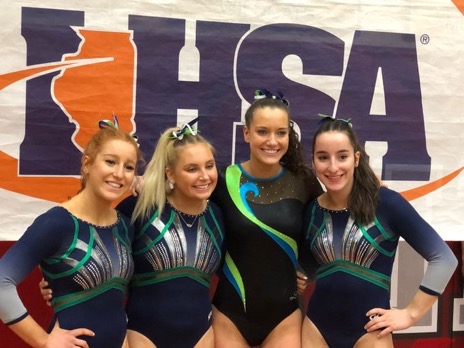 After reaching the IHSA state meet for the fourth year in a row, the girls gymnastics team ended their season on a high note with a finish of fifth place overall in the Feb. 22 state tournament.
The Trevians came into state seeded eighth out of eight teams, so the fact that they made their way up to fifth place is remarkable.
"We were happy because we just did the best we could," said Rachel Zun. "We came into the meet as the last seed, so we kind of just wanted to enjoy the experience and do our gymnastics for us and just see what happened with the scores."
In part, the team did not have the highest expectations going into state because they have dealt with a number of setbacks this season.
"We have had some injuries and some illnesses that kind of were hindering a lot of our success," said head coach Jen Pistorius.
Throughout the season, the Trevians had to push through these setbacks. Junior Erin Gorney, an alternate at state, explained that she was happy about how the team performed despite these struggles.
"I think the last meet could've been better, but I'm satisfied with [the season] as a whole," said Gorney.
"Last year we got second, so it was a little disappointing, but I think it was better that we had a good year for the seniors that are leaving."
Over the past four years, the eight current gymnastics programs have had a tremendous impact on the program. In fact, as a group, they have broken nearly every team record.
"This senior group has made such a strong impact on New Trier gymnastics as a whole," said Pistorious. "We have a leaderboard up in the gym at Northfield, and almost all of the team scores and a lot of the top five scores in our school's history have all been this group of girls."
So, though the Trevians may not have achieved all their goals this season, the current seniors are proud of their achievements. And, in their last meet ever for New Trier, they made it a competition to remember.
"I think it was one of the best meets I've ever had," said senior Avery Faulkner. "Everyone really stepped up and did well. At least for the seniors, it was one of the most fun meets we've ever had so that's all we really cared about."
Like most girls on the team, Faulkner began participating in gymnastics at a young age. Ever since, she has loved the sport and continues to put her all into it.
"I love that it's a team sport and individual, so when I'm competing I can do well for myself and then also help out the team and have my teammates help me out," said Faulkner.
Gymnastics demands a lot from a gymnast's body, though. Faulkner, for example, has suffered multiple injuries related to the sport, including a broken back, broken shins, broken wrist, torn calf, and three concussions.
"Since I was little, I was practicing like five hours a day and it's just a lot of time that's taken out. There's just a lot of physical toll on your body," said Faulkner.
During the off season, most members of the girls gymnastics team participate in club gymnastics. While off season training and competitions improve their skills, most Trevian gymnasts agree that it is not the same as competing for New Trier.
"New Trier Gymnastics is such a warmer environment than club gymnastics. Everyone gets to know everyone so well and it's so much more laid back and it's just nice to be part of a community in such a big school," said Gorney.
In the end, regardless of how they performed at state, the Trevians can be proud of how their strong team spirit shaped their season.
"We've had one of the best dynamics I've ever been a part of at New Trier this year," said Zun. "We were just all really supportive [of each other], we wanted each other to do well in everything that we did, and we all motivated each other to get better."