Track starts outdoor season on a high
Team looks to build on indoor success as they move into outdoor season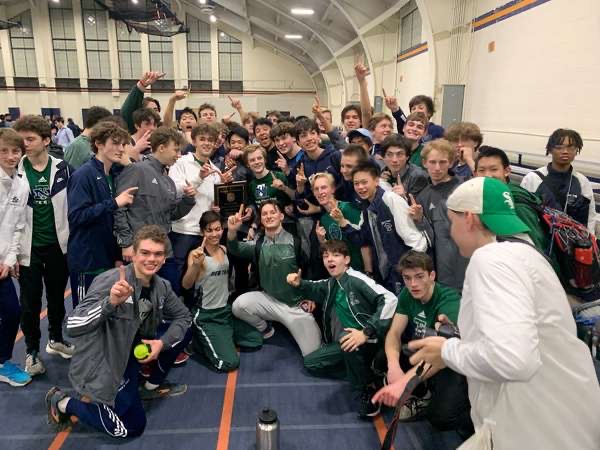 For the first time this century, New Trier Boys Track and Field has won the CSL South indoor championship. Heading into the final weeks of the season, the team is looking to make another push.
On Mar. 17, the team finished first overall with a combined score of 144. The next closest team was Evanston with 130. 
Head coach Andrew Schmitt, who is in his second year at New Trier, said the win was a big step in the right direction.
"It was a team effort by everybody from sprinters, to distance runners, to hurdlers, to all the field events," said Schmitt.
The Trevians' success included wins in the 400m, 1600m, 3200m, and the 4 by 800m relay, and the team also placed high in field events such as triple jump and pole vaulting.
Junior Tucker Anglemyer competed in the 60, 200, and 400, and said that the win was a big moment for the team.
"There was a lot of build up to that moment," said Anglemyer. "It was really an amazing experience."
Senior Sean Vibhatasilpin thinks the team had a different approach approach this year, which allowed them to have success in different events.
"I think distance did a really good job of getting us points and then our relays, sprint relays like 4×1, 4×2, I think 4×4, they also got points there."
Since then, the team has transitioned to outdoors, which started with a win in their first outdoor meet.
"Our times going into the first outdoor meet were a really good starting point," said Vibhatasilpin.
Schmitt agreed, emphasizing the importance of the indoor season.
"It's a long season, from January through May," he said. "If you want to be a top school, you need the indoor season to develop skill levels."
This year, the team has also been boosted by young talent.
"Last year's team was mostly seniors. There were 60 something seniors on the team, and this year there are far fewer seniors," Schmitt explained. "This year, we have many more sophomores and juniors who are at the top level and will return again next year."
Vibhatasilpin is a senior captain and has worked with the freshmen, juniors, and seniors throughout the season.
"Everyone knows each other, we cheer on each other during meets," he said. "We're not alone even though it's kind of an individual sport."
He also complimented the job Schmitt has done.
"He does a really good job of pushing us and working on our technique. That really helps us get better times."
Schmitt is relatively new to New Trier, and he previously coached at Bloom High School in Chicago Heights for more than 20 years. 
"Here at New Trier, you have so many options," Schmitt said. "In order to try to get the best athletes, you have to put together a program where the kids believe in what they're trying to accomplish."
One big emphasis from the offseason was working on strength and conditioning, per Schmitt. He mentioned that there are many more football players this year who came out for track and field and are having success. 
"We're also  really excited about the new indoor track and strength and conditioning facility."
Looking ahead, outdoor conference is set for Friday, May 12, with sectionals to be the following week, and state ultimately the week after that.
"
Distance has always been a strength at New Trier… I think that our sprints and jumps are getting better and better.
Due to these improvements, the team is looking to qualify for state in both relays and individual events.
"I definitely see us going to state," said Vibhatasilpin. "I feel like we can definitely get at least three relays and some individual races like the 100, 200, the mile."
Though there are a lot of really good teams, Anglemyer thinks the team has a lot of potential headed into the final stretch.
"Competition at every meet is just getting better and better as we gear up to our conference and sectionals and state," he said. "But our team as a whole is going to start getting better because that's what drives us."