Record number of students apply early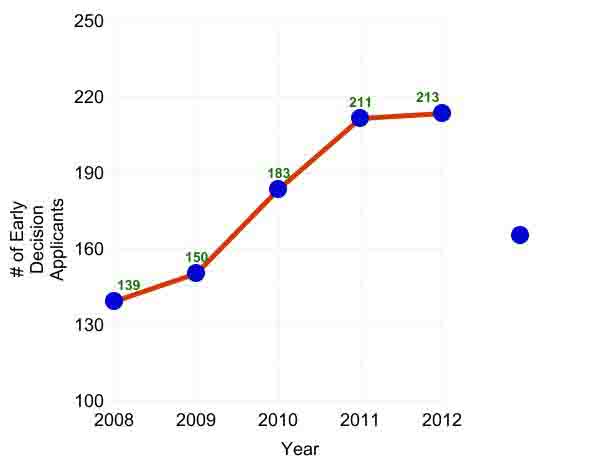 It's that time of year again. The time of year seniors send off their bundle of hard work—a.k.a. early applications—to the colleges of their dreams.
For some seniors, the applications process takes until Jan. 1 to be over. However, for others, it can be over or partly over by Nov. 1, the early application deadline.
According to Post-High School Counseling chair, James Conroy, this year 85% of the seniors applied to colleges by the Nov. 1 deadline. Of that 85%, 21% applied early decision.
The amount of seniors who applied by the deadline this year has increased 5-7% from previous years according to Conroy.
Senior Michael Bay said, "People are realizing that applying early gives them a better chance and they like the idea of finding out quickly."
Recent graduate Virginia Wiltshire-Gordon, said she applied early because she felt like she was choosing the college instead of the college choosing her.
On the other hand, senior Kacie Swierk said, "I really just wanted to get them done with so I didn't have to worry about them. And the earlier you turn it in, the quicker you hear back."
Getting an answer back quickly is certainly a nice aspect of early applications. However, even sweeter, the stress can be reduced during senior year by applying early, according to Wiltshire-Gordon, Bay, and Swierk.
"You can relax the rest of the year if you do early applications. My spring semester was more enjoyable because I didn't have the stressful decisions to make. I was able to focus more on friends and things that I wanted to do," said Wiltshire-Gordon.
Bay said, "It wasn't too bad for me because I only had to write two essays."
"The most stressful part is waiting for the acceptance or denial from the colleges," said Swierk.
According to Conroy, applying early is more stressful if a student is not organized. "Don't force yourself to do it because of the time frame," he said.
Even though early applications can be stressful for those who are not as organized as others, applying at the January 1st deadline can be even worse.
Swierk said, "It's even more stressful when applying for the January 1st deadline because if you miss the deadline you can no longer apply."
"Applying for the January deadline is more stressful because if I am doing normal applications that means that things went poorly with the early ones," said Bay.
Lucky for the seniors, a majority of colleges offer some kind of early application process because it's an advantage to the colleges to get a head start on sifting through the applications, according to Conroy.
Bay, Swierk, and Wiltshire-Gordon all said that they were able to apply early, either early action or early decision, to all of the colleges they wanted to.
For all the juniors out there listen to this.
"Early applications are a great way to show a college that you feel strongly about the school. I would recommend that if you can come up with a first choice, apply early and see what happens. You can only go to one college in the end any way," said Wiltshire-Gordon.
Bay said, "I would say that it is a good idea to apply early, but it is different for every person so just go with whatever makes you sleep at night."
As for applying to colleges in general, there are many parts to consider.
"It can be really helpful to go to the course catalogs of the schools and read through some of it to get an idea of what types of classes there are and if you would find classes you are really passionate about," said Wiltshire-Gordon.
Conroy said, "It's really important to look at the college application and say, this is me. It should be transparent who you are in the application."
Conroy emphasized that students are the ones going to college, not them and their parents, and not just the parents. He said, "Students have to take ownership of the process. People can help, but they cannot do it for the student."
"It's the quality of what you do," said Conroy, "not the quantity of what you do."