No Shave November participants reflect on the month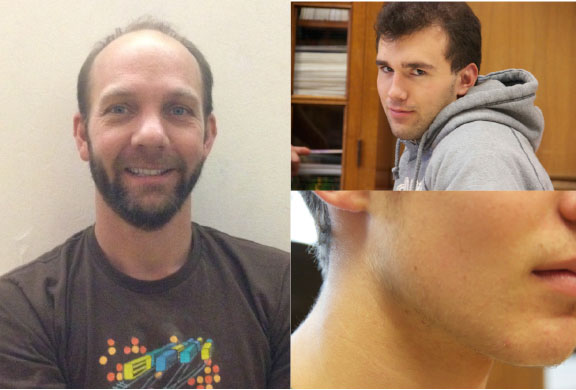 Hang on for a minute...we're trying to find some more stories you might like.
It's the end of November, which means guys can finally lift their razors up again. But how did kinetic wellness teacher Leif Gamrath and seniors Michael Ulrich, Alex Rodriguez, and Jackson Hamilton do with not shaving? I checked back in with all of them to see whether or not they succeeded in No Shave November.
Gamrath was able to go the entire month of November without shaving. The team Gamrath was a part of – a collaboration with Element Skateboards and Greater Baltimore Medical Center – raised over $3,200. Gamrath said, "it's only a start" when it comes to awareness of men's health issues with the idea that men are supposed to "tough it out" or "decide not to have mental illness." Gamrath stated, "Movember and No Shave November aims to change the face of men's health by putting a fun twist on this serious issue, using the moustache and beard as a catalyst."
Gamrath explained that the beard he was growing started many conversations he had with people. With the amount of people asking him about his beard, Gamrath looked up statistics on men's health in general and men's health versus women's health. The only problem Gamrath had to face with growing his beard was attending Home Visits and Parent/Teacher Conferences. He believed that some parents, "thought [he] was a Boston-Bolshevik or a confused Blackhawks fan." Nonetheless, Gamrath is confident that he and the other members in the Kinetic Wellness offices will participate in next year's No Shave November and is hoping that the rest of the department will join in.
Ulrich was also able to make it through the entire month of November without shaving. He pulled through even going to a college interview with his peach-fuzz around the edges of his face and cheekbones.
Ulrich explained, "I walked into the interview and told the interviewer at Northeastern University that I was doing No Shave November. She responded by saying, 'Are you really? It's hard to tell,' she laughed. I remained stern. I was bewildered by her comical findings in my peach-fuzz that I worked so hard to produce."
Despite Ulrich's slightly bashful encounter with his college interviewer, he was able to stay true to the spirit of No Shave November by not shaving to raise awareness for cancer. When Ulrich learned of the others that I followed had shaved during the month of the November he stated, "That's pretty pathetic."
For Rodriguez, he went most of the month without shaving and was able to grow a thick beard that made people stop and ask how old he was. However Rodriquez ultimately had to shave his beard in the middle of the third week of November. He explained, "I had to shave because I had a college interview and my mom wanted me to look presentable." Though he shaved early, Rodriguez's only troubles that he faced while participating in No Shave November, was "trying to not scratch" his beard and not "get food or drinks in it."
The month of November was going great for Hamilton for the first three weeks, and then he shaved. Hamilton explained, "Not shaving was going great, I even went through a college interview a few weeks in, without really any struggles." The reasons for Hamilton's shaving of his beard were due to a court attendance where he needed to look clean and presentable.
Although not everyone who participated in No Shave November was able to succeed, the true meaning of this month remains: men's physical and mental health is an important issue to address.