Put an Austrian twist on your cookie list this year
Viennese Crescents offer a different take on the sugar cookie
With the Christmas season in full-swing, most people are probably thinking about making sugar cookies and decorating them for Christmas. There is nothing inherently wrong with sugar cookies. They're simple to make, they taste good, and they're easy to decorate. 
But sugar cookies are boring. They taste like butter, sugar, and flour, and nothing else. They're certainly delicious, but there's little  flavor. 
This Christmas, why not try baking a more interesting cookie? Perhaps one from Germany or Austria, countries known for their extravagant Christmases. 
You could pick the spiced and glazed Lebkuchen, a holiday favorite that uses niche ingredients like candied orange peel, candied lemon peel, and molasses. You could go for the bright white anise-flavored springerle, although you would need a mold to shape the cookies. 
Or you could bake something easier that doesn't require as many ingredients. A cookie that doesn't require a drive to the grocery store at 3 p.m. on a Sunday afternoon to buy ingredients that you'll only use a portion of and shove the rest into your pantry until it rots. 
I decided to make Viennese Crescents (Vanillekipferl in German) from the cookbook The Joy of Cooking (recipe at the bottom of the article). Viennese Crescents are traditional crescent moon-shaped Austrian Christmas cookies made with almonds or walnuts and rolled in powdered sugar. They are light and buttery but a bit more sophisticated than your average sugar cookie.
 The cookies are  easy to make. With the exception of blanching the almonds (boiling for one minute and then removing the skin) and grinding them with a food processor, it was a fairly conventional process to bake the cookies.
Note that the dough will be very soft since the Viennese Crescent is such a buttery cookie. I recommend refrigerating it for at least ten minutes before you attempt to mold the dough into crescents.
I felt that the suggested baking time of 13-16 minutes was not enough and I went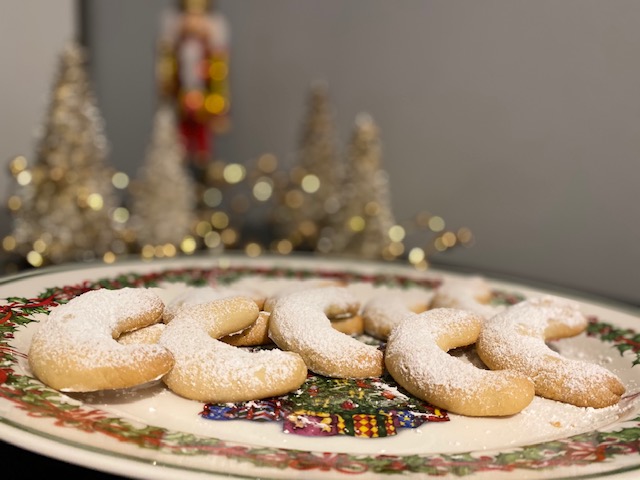 up to 18:30 to get my cookies golden-brown. I would recommend starting at 15 minutes unless you are making smaller cookies than suggested, and increasing baking time by 1:00-1:30 if necessary. 
The cookies were light and buttery just like they were supposed to be, although a bit dry. They did taste a bit bitter, although the powdered sugar was able to mostly negate that. European cookies are usually less sweet than American cookies, and while there is a bit of a bitter aftertaste, the nutty flavor from the almonds gave the cookie more depth than a traditional sugar cookie, which shares a lot of ingredients with the Viennese Crescents.
Recipe from The Joy of Cooking: 
Position a rack in the upper third of the oven. Preheat the oven to 350℉.Grease cookie sheets.
Beat on medium speed until lightened in color and creamy:
½ pound (2 sticks) unsalted butter, softened
Sift over the top and beat until well combined:
Stir in: 
2 teaspoons vanilla

1 cup ground walnuts or ground blanched almonds
Gradually sift over the top while stirring:
Knead until well blended. Pull off generous 1-tablespoon pieces of the dough, roll with your hands into a short rope, and shape into crescents. (If the dough is soft and hard to handle, refrigerate until slightly firm). Space 1¼ inches apart on the sheets.
Bake, 1 sheet at a time, until the crescents are faintly tinged with brown and slightly darker at the edges, 13 to 16 minutes; rotate the sheet halfway through baking for even browning. Remove the sheet to a rack and let stand until the cookies firm slightly. Transfer the cookies to racks to cool. Sift over the cookies until evenly coated: