Senior Helper decisions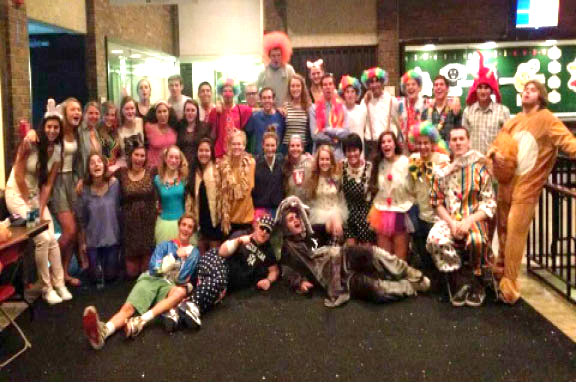 Senior Helper decisions were released to advisors this past Tuesday about who makes it to the next round of Senior Helper. Interviews will be conducted over the next few weeks and are expected to be concluded in a few weeks.
The extensive process to select next year's Senior Helpers kicked off early this school year and has all lead to the upcoming interviews for candidates. The candidates have gone through several stages of the process so far, including the applications they had to turn in last week. The applications were supposed to be turned in earlier, but the days off for cold weather pushed back the deadline so as to allow the applicants adequate time to complete them.
This year's recent application was the most extensive yet. It required three recommendations: one from the applicant's adviser, one from a coach, and one from a teacher. In addition to the recommendations, it contained an essay about why the applicant wanted to be a senior helper and what would make him/her a good fit for the position
This application narrows down the field of applicants to less than half. There were originally around 150 applicants total, and this process will whittle the pool to roughly 50 seniors. The final number depends largely on how many freshman adviseries there are next year, according to Greg Sego, Junior Boy's Adviser Chair. There are usually 20-22 adviseries for each gender.
"It takes around twenty hours out of the 100+ essays that are turned in to read them all," said Sego. After a significant number of students are eliminated from the pool, the remaining applicants have an interview with a panel that consists of Stephanie Gamauf , Junior Girls Adviser Chair, Diane English, a New Trier Social Worker, and Sego. The three spend around ten hours total interviewing candidates and discussing the applicants' reasons for applying and qualifications.
Sego said, "We [the panel] can usually interview around five applicants in an hour. We want to go in-depth to make sure we have the best people."
Applicants are forewarned about the app process. Junior Evan Gruchot said, "This is a very time-consuming process but we were told ahead of time not to apply unless we could handle the time commitment."
Because there are three times as many applicants as open positions, most applicants won't be admitted. Sego said of this that "every applicant is qualified, but he needs to find the right kind of student for the position."
Students choose to be a senior helper for a variety of reasons. The reasons largely depend on the specific student. The time commitment required just for the application process is enough to ensure only highly motivated students apply.
With applying for college ever present in the students' minds, some may apply just because it looks good on a college application. Gruchot had a different reason. "I had a really influential Senior Helper my freshman year" stated Gruchot, "I just want to have that kind of impact on next year's freshmen."
Regardless of reason, the experience has a profound effect on all who enter the program. Sego remarked that a senior helper from this year recently emailed him and said, "This program can change lives. It can change freshmen and it can change seniors." The writer also said that he appreciated the work that everyone put into the selection process.
"In the end, I am proud of the work we do, because the best people are selected," Sego added.
Next year's freshman class is going to have the best helpers possible, and while some didn't enjoy their Senior Helpers as much as others, the vast majority of students are nothing but thankful for all the work their Senior Helpers put into making their transition to high school as smooth as possible.