Residents raise concern over Winnetka store display
Neapolitan Mannequins sport QAnon bracelets, sparking reactions
On Friday, Mar. 20, Winnetka resident Hannah Kadin posted to Nextdoor, expressing disgust for an apparent endorsement of the QAnon conspiracy theory by Neapolitan, a women's luxury goods store in downtown Winnetka.
Half of Neaploitan's window display featured a large blue Q alongside a mannequin that wore wristbands inscribed with the words QAnon and @StormIsUponUs. The other side of the display contained white and red paper roses, two more mannequins, and a sign emblazoned with the words "Remain Calm." 
"This morning in downtown Winnetka, I was disgusted by the QAnon propaganda on display at Neapolitan," wrote Kadin. "If you're not familiar with QAnon, google it and decide for yourself what kind of businesses you want to support."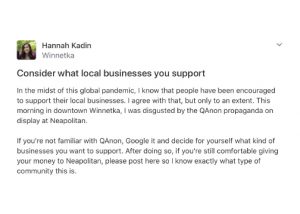 At its heart, the QAnon conspiracy theory alleges that the "deep state" is plotting against President Trump and his supporters, according to NPR. The conspiracy has spread far and wide ever since a mysterious online figure called "Q" began posting about QAnon on anonymous internet forums in Oct. 2017. 
According to QAnon believers, purported members such as Barack Obama, Hillary Clinton and George Soros are plotting a coup d'état against Trump. They have also accused numerous liberal Hollywood figures, Democratic politicians, and high-ranking government officials of engaging in a global child sex-trafficking ring.
Just this past week, QAnon believers prompted the false rumor that Oprah Winfrey had been arrested for sex trafficking to trend on Twitter. 
The "@StormIsUponUS" portion of the blue wristbands in Neapolitan's window display refers to the end game of this conspiracy theory. According to New York Magazine, most QAnon believers allege that the "deep state" cabal will be overthrown in one final upheaval known to them as "The Storm" or "The Great Awakening." 
Such claims of a "deep state" cabal are unfounded. Despite "Q's" claims of access to top secret government information, there is no evidence to support this conspiracy theory, according to NPR.
To say that Neapolitan is a prominent local business would be an understatement. Over the years, owner Kelly Golden has amassed a collection of products from leading designers such as Gucci and Victoria Beckham and has hosted store events featuring celebrities like Demi Moore. 
The New Trier News attempted to contact Neapolitan for this article, but neither Golden nor anyone else at the store returned our request for comment. 
The store's lack of a response to our inquiries does not mean that they have ignored the situation. At some point over the weekend, someone at the store removed a significant number of objects from the window display. 
"I just walked past Neapolitan and all the Q material has been removed," commented Winnetka resident Laurie Petersen in response to Kadin's post on Saturday. 
On Monday, Mar. 23, Golden commented on Kadin's post, at last speaking on the situation. She apologized, saying an acquaintance left the sign and bracelets. Golden said she was not aware of QAnon or @StormIsUponUS.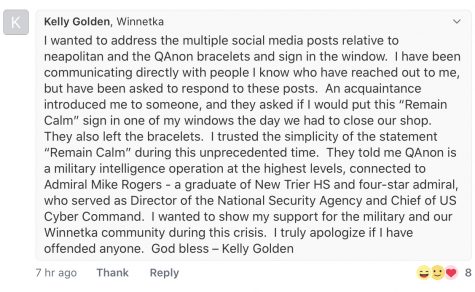 Golden posted again several hours later to clarify her statement.
"This will be my last post about this. For those who know me, they know that I do not engage in personal social media hence the delay in issuing any statement. You have every right to believe what it is what you want to believe however I have been a long time resident and business owner in this community and continue to support Winnetka. Believe me or don't but I was not fully aware of the fringe theories surrounding this group. I made a terrible error in judgment and have corrected it. This is not a group I should ever have be associated with in any way and apologize to everyone who has been affected by this. Kelly."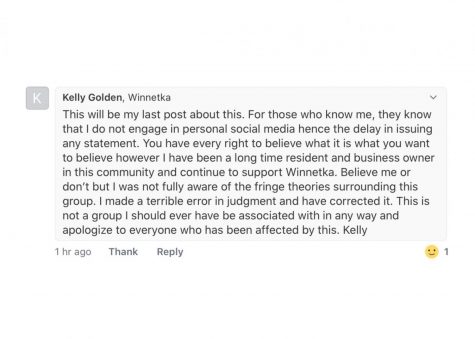 While Golden's apology may be genuine, by making QAnon an integral part of her window display she promoted their ideology. 
It remains unclear what her ties to QAnon supporters are.
On Friday, a Chicago area woman named Veronica P. Wolski tweeted, "I told Kelly, 'One thing I hope 2 be a truth, when Patriots find out about the Evil that launched at U. U may find that every customer U lose, U will gain 5 Patriots 2 patronize your beautiful Boutique in their place. Patriots R glamorous and Beautiful as well.'"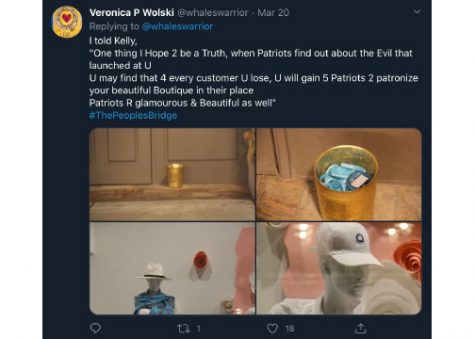 A look through Wolski's Twitter history reveals continuous backing of the QAnon conspiracy. While Wolski's exact connection to Golden is uncertain, there could be a link between her and the creation of the window display at Neapolitan.
On Mar. 19, Wolski placed the same blue wristbands seen at Neapolitan on bronze deer statues outside of Edwards Florist in Winnetka. 
"During a late night errand last night, I got to be of service and do something I've always wanted to do. 'Decorate' the bronze Deer  at Edwards Floral on Willow Road in Winnetka, IL," tweeted Wolski.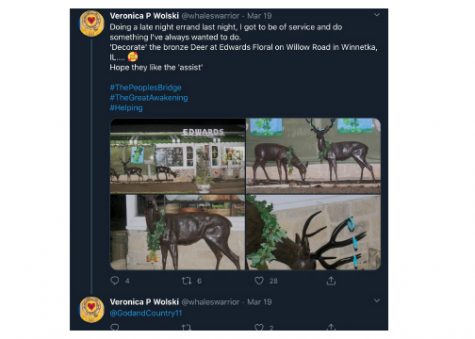 Edwards Florist responded to this incident far quicker than Neapolitan did to theirs. On Saturday, a representative of Edwards Florist posted the following statement to Nextdoor:
"We did not put the blue wristbands on our deer out in front of our shop. From the picture it looks like it was done at night. We are closed due to the state wide stay at home order. This was done without our permission. I have reported this information to the police."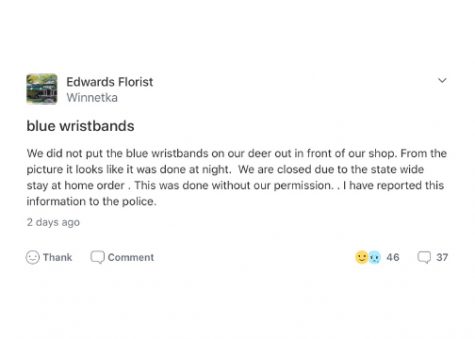 Ultimately, the community will have to wait and see how this situation with Neapolitan will play out.
"After [researching QAnon], if you're still comfortable giving your money to Neapolitan, please post here so I know exactly what type of community this is," wrote Kadin.