Northbrook rally highlights stark divide
GBN junior organizes Northbrook rally to support Trump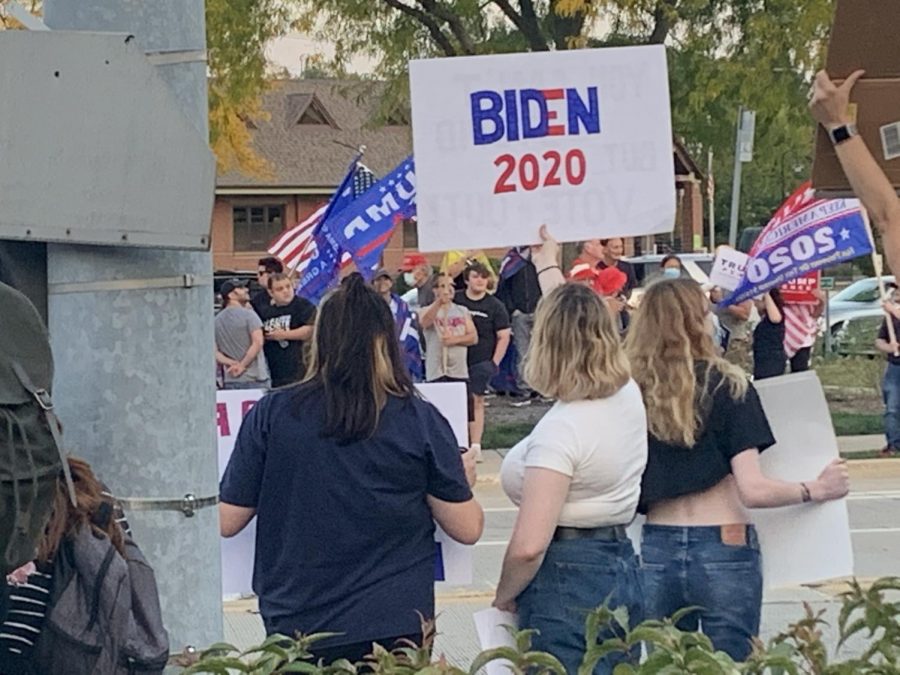 A week after Glenbrook North junior Peter Christios and his friends were allegedly assaulted while displaying a "Trump 2020" flag, he organized a pro-Trump rally in Northbrook on Sept. 25.
 The event took place at an intersection near the Village Green Memorial Park,  where a scoreboard tallying the U.S. death toll from COVID-19 was erected and later defaced. 
 Christios said the attack, a video of which has been taken down from YouTube for violating its Community Guidelines, made him "sad to know that our community members would turn physically violent against us simply because of our values and beliefs. It kind of shows how 'tolerant' the left really is," Christios told Patch.
 Christios is one of the moderators of the "Conservatives of GBN" Instagram account, and believes that Trump is the best choice in the election. 
  "My key reason for backing Trump in this upcoming election cycle is his ability to bring people together," said Christios. "There's definitely a lot of divide in this nation, both racially and politically, and I think our president can heal it."
 Many people  held up signs and honked their horns in support of President Trump at the rally. One of the people present at the rally was Bob Carlson, who voted for Trump in 2016.
"I'm pretty disgusted with how the media treats Trump these days," said Carlson. "He has all these great accomplishments under his belt. I'm just excited to see him expand upon what he's done in his first term in office."
The rally didn't just bring out some of President Trump's allies; plenty of Joe Biden supporters flooded the intersection where the rally took place as well. 
Dale Duda says she has been a resident of Northbrook for 28 years, and she made her support for the Democratic nominee very clear.
"I hope events like these are going to continue to get people to go to the polls," Duda said. "I'm voting for Biden because he's not Trump; he's not a misogynist, he's not anti-immigrant, and he's much more compassionate than our current president."
 The Trump followers mainly stood on one side of the intersection, while most of the Biden supporters stood on the other. The two sides bellowed at each other throughout the evening, using slogans like 'Trump 2050' and calling the other side 'anti-American trash.' One Biden counter-protester even yelled "shut the f*** up" through a megaphone to a group of young Trump supporters. 
   Just like the Trump section, Biden's group had a particularly diverse cast of supporters at the event. One of them, former Louisville resident Whitney Bryan, said: "I just hope Biden pulls us through all of this madness. I know he's much more knowledgeable on issues like COVID-19 and climate change, so it seems like he cares about the state of the world more than Trump."