Pandemic can't slow down tree sale
Tri-Ship sells out in first weekend, makes over $12,000 for boys' scholarships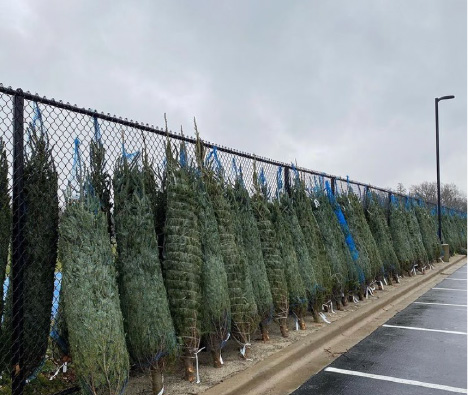 When the time came to host their annual tree sale, Tri-Ship sponsors and officers had to decide whether to go on with the long-lived tradition or cut it. With the chance of school being closed, the team didn't want to be left over with a large amount of trees they couldn't sell.
"We had to be smart about how much we ordered and I think we were smart about it, but we also wanted to be dedicated and loyal to our distributor who we have been working with for many years," said Tri-Ship sponsor Scott Fricke. 
The tree sale, which Tri-Ship has hosted for over 40 years, managed to sell out in the first three days, making over $34,000. Normally, it takes three to four weeks to sell out. 
"
It's definitely a record; we have never sold [out] that quickly"
— Scott Fricke
"It's definitely a record; we have never sold [out] that quickly and to tell you the truth, we would still be open this coming Saturday," said Fricke. "In most years we do try to open that last Saturday before we go on break, just to get rid of any excess inventory."
Yet getting to this point was no simple feat. Even though Tri-Ship upheld the remote environment needed during the pandemic, the boys spent time and energy with each customer. Tri-Ship vice president Liam Donohoe said that sellers greet customers at their car and lead them through the lot.
"Some customers are one tree and done, while other customers want to see five to 10 trees and are very picky, so we walk them through that," said Donohoe. 
The event took hours of preparation and work. Planning an entire sale during COVID meant guidelines needed to be followed. Much of the official busywork was allocated among the Tri-Ship team.
"The meetings that I had with my assistants and with the activities sponsors and with [Tri-Ship officers] and pricing and my lot workers, it's just so much time," said Fricke. "All that prep and work and we were done in three days so it's just a crazy year."
Another challenge for Tri-Ship was not being able to rely on informing the student body through in-person school. Tri-Ship secretary Brian Nummy said that traditionally, the club did most advertising through school flyers and announcements, but this year they moved advertising online and have had to have a larger social media presence, something Tri-Ship had never done before.
"This year we needed to set up our own website, and we really needed to get on social media and find new ways to be able to tell the community that we're still selling the trees this year," said Nummy.
Using Tri-Ship's accounts on Instagram and Nextdoor as well as New Trier's official Instagram page, the tree sale was able to gain popularity amongst students and family.
While the Tri-Ship tree sale was well known amongst New Trier students and family, some say that advertising for people outside of that demographic could've been better. Julie Campbell, a Northfield local and loyal customer of the tree sale for 12 years, missed the tree sale this year due to Tri-Ship selling out in an unexpected three days and might not have been able to find out if it weren't for Nextdoor posts informing that they ran out of trees.
"The cause is so good that they should do a better job of making people who might not be in the immediate New Trier community aware of them," said Campbell.
Even during the remote environment, Tri-Ship was able to maintain tradition and help train future leaders during the sale. The upperclassmen's main role was to teach the underclassmen how everything works, from showing customers trees and identifying their locations and sizes, to how to tie a tree onto a car and give it a fresh cut. Tri-Ship President Matt Booden said he was impressed by the sophomores
"I was on the tree lot two out of the three days and I got to talk with a lot of the sophomores and they were really taking a leap. They were even teaching a lot of the freshmen who'd come onto the lot that Saturday," said Booden.
Before the tree sale event, Tri-Ship also showed success in the Greater Chicago Food Depository Food Drive, helping raise over $67,000 worth of donations for food. 2020 has been a very successful year for Tri-Ship relative to how much money they were able to fundraise, which was corroborated by the recent record-breaking tree sale.
"For the Canned Food Drive, the top grossing advisories had members of Tri-Ship in it and I think that says a lot about, you know, we were able to raise that money because of the guys in our club and their hard work," said Booden.