Night League Preview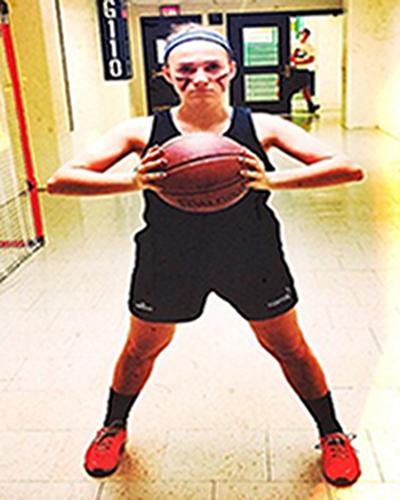 Hang on for a minute...we're trying to find some more stories you might like.
The New Trier Night League season has begun, and the Senior Boys and Junior/Senior Girls divisions appear to be in for an extremely competitive season.
In the senior boys division, Black Magic has claimed the championship two of the past three years. They went undefeated freshman and sophomore year until the Red Devils, led by senior Jack Koltin, beat them in the championship last season.
Senior Jack Klein, who switched from Team Hub to Black Magic for his final year of eligibility, is chasing a ring.
"I wanted to win a championship senior year," said Klein, who has been playing in Night League for three years and demonstrates tremendous passion.
"I like it simply for the reason that you can just drip in swag and ball out with your blood brothers any given Wednesday," he explained.
Black Magic has been dominant two weeks into the season, largely due to senior big man Matt Kaskey. Kaskey has been posting roughly 25 points and 12 rebounds a game. "I think there are only a couple of squads this year to look out for. I would say Ryan Hartigan is a contender because of Nick "Thick Nick" Krauskopf. The kid is just so thick," said Klein.
Senior Michael Roeser, a member of Team Hub, thinks that his team is a contender. "We are the hungriest team in the league." Roeser asserted.
Roeser's team is extremely competitive on the court. "We chirp our opponents during the games to get in their heads. We do whatever it takes to win."
Roeser believes his team is not the only contender adding that Black Magic, Red Devils, and Ryan Hartigan all have a shot at the championship. All three teams have jumped out to undefeated starts, while the Red Devils are 1-1.
There is no doubt that Senior Boys Night League is extremely competitive. According to Klein, Black Magic is one of, if not the most competitive teams out there.
"We are as competitive as it gets. When you have two rare breeds of athletes such as Charlie Schoder and Scott "Biceps" Hammes" said Klein.
On the flip side, the Junior/Senior Girls division appears to be competitive as well. Senior, four year Night League player, and captain of Smokin' Bulls, Rachel Palmer, said that Girls' Night League is "underratedly competitive."
While Night League does bring out the competitive side in people, that doesn't mean that it isn't a fun time and chance to meet some new people.
Palmer likes Night League because "it's a way to be fun and competitive with your friends, while also playing girls who you'd never talk to in school."
Smokin' Bulls have won their first two games, and are looking to have a successful season and possibly earn themselves a championship. But that doesn't mean that other teams aren't going to stand in their way. "LeBrontourage has a player who just quit basketball, and so does The Squad so they both seem like big contenders this year," said Palmer.
There is no doubt that all eight teams are competitive and want to win the championship.
Will one of the junior teams knock off a senior team and win the Girls' bracket? Or will a senior team end their Night League career on top? Will Black Magic reclaim their throne after last year's upset? Only time will tell, but we cannot wait to see what will happen.