Boys track runs for victory
The New Trier Boys Track Team is expected to have an outstanding season this year because of the talented athletes in all events.
Boys Track has always been a popular sport during the Winter and Spring season, but according to the Head Coach Mark Wukas, this year will be especially successful.
The team has set goals in order to achieve their idea of a "successful year." Captain Peter Cotsirilos said, "As a team, our main goals are to win the conference meets (indoor and outdoor) and qualify as many competitors for the state meet as possible." Wukas has yet to experience his team win a conference meet as head coach, so fulfilling this goal remains as one of the main hopes for the entire team.
Beyond the team as a whole, there are specific athletes to keep an eye on. Fellow senior captain, Dylan Gunther said, "Bryant Herlocker and Tim Mollman are two guys that worked incredibly hard this offseason and will score a lot of points this year because of it." According to his statistics, Herlocker has an outstanding personal record of 21.8 seconds in the 200 meter race and 49.7 seconds in the 400 meter race. Mollman, who is also a sprinter, has a personal record of 11.79 seconds in the 100 meter race and 54.36  seconds in the 400 meter race. Both are expected to improve and compete soundly. Distance has always been one of New Trier's strongest events, and this year there is a huge amount of talent. Wukas said, "I am expecting Peter Cotsirilos, Chase Silverman, Connor Trapp, Charlie Kupets and a whole slew of  these guys to step up and do great." Specifically, Peter Cotsirilos is a strong competitor who has continuously grown into a better runner and racer. He holds a personal record of 1:56.9 minutes in the 800 meter race and 4:18.86 minutes in the 1600 meter race.
According to Wukas, pole-vaulting is also going to be a strong event this year. Two leaders in this event are Gray Schoch and Owen Phillips. "Gray Schoch literally shocked us last year with how much he improved. He vaulted over 13 feet and he is within 6 or 9 inches of qualifying for state this year and he has been working out all year so this could be an awesome year for him." said Wukas. Since indoor facilities don't offer a large space for pole-vaulting, the athletes in this event are expected to flourish during the outdoor season.
The  only concern for the team is lack of phenomenal athletes in the jumping events. Wukas said, "We are strong across the board except for maybe in jumps, but just because I don't see any stars coming up, doesn't mean they won't emerge." Although jumping will not be the teams strongest event this year, Wukas is optimistic that there are boys who will step up in the jumping events.
Although the individual talents are going to benefit the team, the chemistry and improvement of the team as a whole is what will lead to success. Captain Mike Foy said, "In order to achieve our team goal of winning a conference title, we need a full team effort. I expect us to have great all around team success this year."
Even Wukas said that he doesn't want to only focus on the athletes with great statistics; he wants to help each individual team member grow into a better athlete as well. He said, " At the end of the season, I want every guy who comes out for track and field to be able to say that he improved in his personal events."
The air that pervades the New Trier Boys Track and Field team –athletes and coaches alike–is hopeful. As Wukas said, "I am cautiously optimistic that we are going to have a totally freaking awesome year!"
About the Writer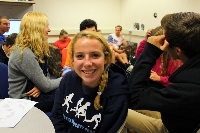 Abby Burton, Opinions Editor
Abby Burton is one of the opinions editors this year. She writes her opinions on all different topics. Whether they are controversial or not, she always...