Most '20 multiples headed to different destinations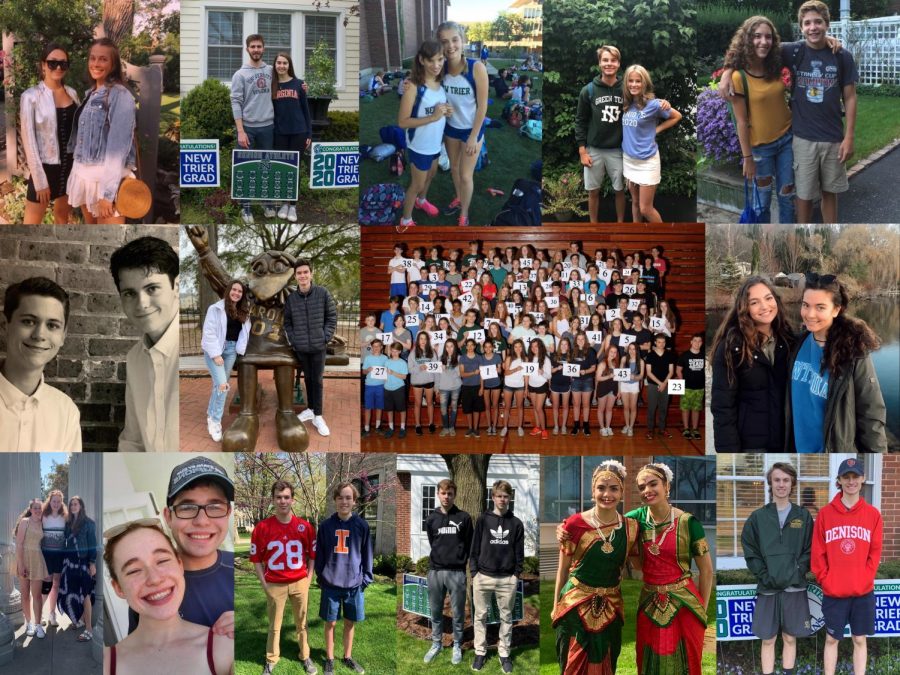 Congrats to all the class of 2020 multiples! Not only did we survive high school, but thanks to the Novosel twins' efforts, we also broke the world record for having the most twins and multiples in one academic class. And got our 15 minutes of fame.
As the 93 of us journey to new places next fall (if COVID-19 allows for it), many will be separating from their twin/triplets for the first time. 39 pairs of twins and both triplet sets will be headed to different destinations next fall, and only six twin pairs will be attending the same school.
Interestingly enough, my twin and I (shoutout to Alex) will both be going to Cornell University. We viewed going to the same school as a positive, although not necessarily an  influential factor or deal breaker, and applied to many of the same schools. In the end it came down to the fact that we each fairly independently reached the decision that Cornell would be a great fit for each of us.
Especially because there are so many multiples in our grade—44 pairs of twins and two sets of triplets—it made me wonder how everyone else was handling the end to their high school years and the potentially diverging paths that await.
For Amy and Rachel Zun, going to the same college was never really part of the plan.
"I toured Northwestern with Amy and really liked it and could have totally seen myself there if I ended up not doing gymnastics, but I had already labeled that as 'Amy's school' so I didn't really consider applying there," said Rachel.
Luke and Ryan Novosel took a similar approach to the college decision process. 
"I [was] adamant about going to a different college than Ryan and this is the case for us. Not because I hate him but because I think I would rely on him too much," said Luke Novosel.  
According to Ryan, college will be an opportunity for the both of them to make new and different friends, and discover the unique aspects of their identities as individuals.
"I think it'll be nice for each of us to be able to finally carve out unique identities for ourselves after pretty much being two peas in a pod for the last 18 years," said Ryan.
On the other hand, Mira and Zach Becker viewed the possibility of attending the same college in a more positive light, but in the end simply ended up liking different schools.
"There were a few schools that we both applied to, although there was no overlap in our 'top' choices. We definitely thought it would be a plus to attend the same school, but it was not a priority due to our differing interests in schools," said Zach.
Mira reported that one con to attending different schools is that it signals the end of an era where she could face the everyday world side by side with her twin brother.
"I think walking through the same experiences at the same time and same age is a really special experience, and a lot of that ends when we go off to college," said Mira.
Evan and Olivia Prendergast liked the thought of attending the same university, but didn't factor it heavily in the decision making process. Instead, they just ended up with the same top pick school.
Said Olivia, "We didn't make our decision based on wanting to choose the same school, but we also weren't opposed to the possibility. I think both of our visions and goals for college overlapped in places, and that just happened to mean that UVA was #1 for both of us."
Evan Prendergast believes that because of the large size of the school they will be attending, he and his sister will have plenty of room to grow and develop individually."Quite honestly, I don't see any real cons. For the school my sister and I are attending each grade is about the size of New Trier, so seeing one another around every corner is not a concern. I think it only really provides upsides: easier travel, easier on the parents, easier to meet up if something is wrong etc.," said Evan.
Chloe and Luke Karabas never imagined they would end up at the same university. Chloe's top choice throughout the admissions process was the University of South Carolina, but not Luke's.
"Luke never really considered it as one of his options. In fact, he finally decided to fill out the application and turn it in an hour before the deadline," said Chloe.
But Luke Karabas' opinion towards the school changed after visiting the campus, and according to Chloe, this is when her twin really started to seriously consider going to the University of South Carolina.
"It will be extremely helpful to have family so close by when the rest of our family is 821 miles away. We've already agreed on having twin breakfast at least a couple times a month, so we can check in with each other during the transition from high school to college," said Chloe.
However, for the majority of the multiples who plan on attending different (and often distant) universities, they realize that the next chapter of their relationships will inevitably look different.
Mira Becker said that there will certainly be some growing pains to living apart, but she plans on calling her twin a lot.
"It's definitely going to be an adjustment living away from Zach. I've been with him pretty much every day for the last 18 years, and spend even more time with him now that we're stuck in our house together," said Mira.
The Zuns have made similar plans.
"Rachel and I have already agreed to FaceTime daily, and to swap clothes every time we come home," said Amy Zun. "I know that no matter how far apart we are, we will always be there for one another if we need something." 
Bella and Sofi Troglia are among the 44 twin pairs of the '20 senior class. Sadly, Sofi passed away in 2017. Scan the QR code below to make a contribution to the greenhouse that is being constructed on New Trier's rooftop in honor of Sofi's memory.